Abuja, Nigeria
Max Air, a Nigerian airline operator has refused to refund passengers who had booked to fly the airline before their operation was suspended by the Nigeria Civil Aviation Authority (NCAA).
On July 12, the NCAA announced the suspension of Max Air's operations with immediate effect till further notice, a development that follows the inability of the airline to meet up with safety and regulatory provisions for airline operators in the country.
Bukola, a nursing mother and five others had booked a flight amounting to N351,800.00 with Max Air scheduled for July 14, 2023, from Maiduguri to Abuja.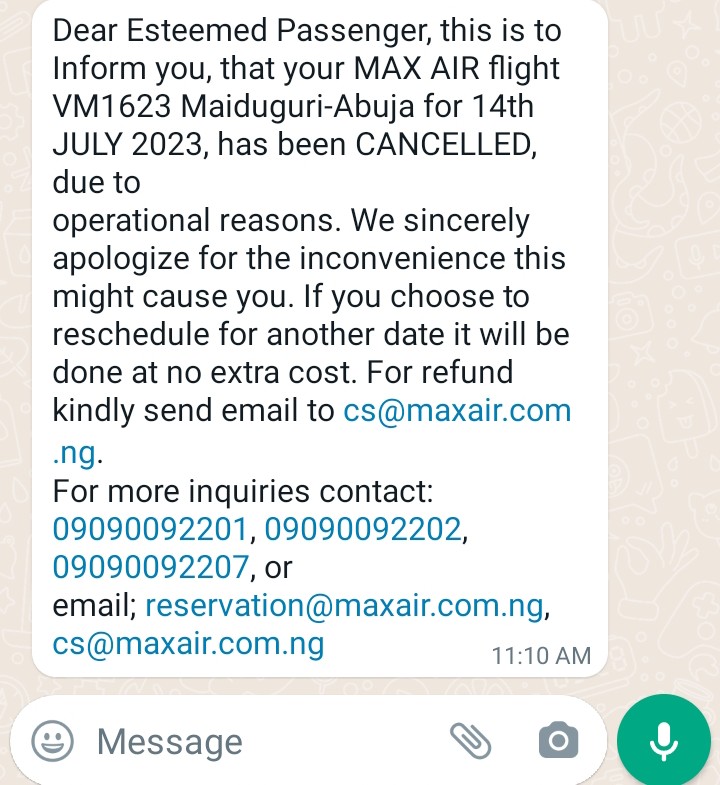 "Dear Esteemed Passenger, this is to inform you that your MAX AIR flight VM1623 Maiduguri-Abuja for 14th JULY 2023, has been CANCELLED due to operational reasons. We sincerely apologize for the inconvenience this might cause you.
"If you choose to reschedule for another date, it will be done at no extra cost. For a refund, kindly send an email to cs@maxair.com.ng. For more inquiries contact, 09090092201, 09090092202, 09090092207 or email: reservation@maxair.com.ng, cs@maxair.com.ng," the airline sent an email to Bukola and others on July 13, 2023.
Bukola and others were in Maiduguri for an official assignment but their journey turned into a stressful one because of the need to make new arrangements for booking with another airline.
They said their suffering became a serious one after Max Air officials in Maiduguri left the passengers to their fate as there was no response to calls, emails and text messages sent to Max Air personnel.
They had to get another flight back to Abuja which they said was gotten at more than a 50 per cent increase compared to the amount they paid to Max Air as they already had less than 24 hours to their traveling time.
Another side of the suffering is that 55 days after the flight failure, Max Air has yet to refund N351,800.00 paid for their bookings.
Their ordeals in asking for a refund
After the whole scenario, Max Air didn't send any apology message nor calls to appeal to the passengers for the losses, inconveniences and suffering caused by the suspension of their operations.
Bukola narrated how they had to call families and friends who sent them money to buy their tickets with another airline that eventually flew them to Abuja, the nation's capital.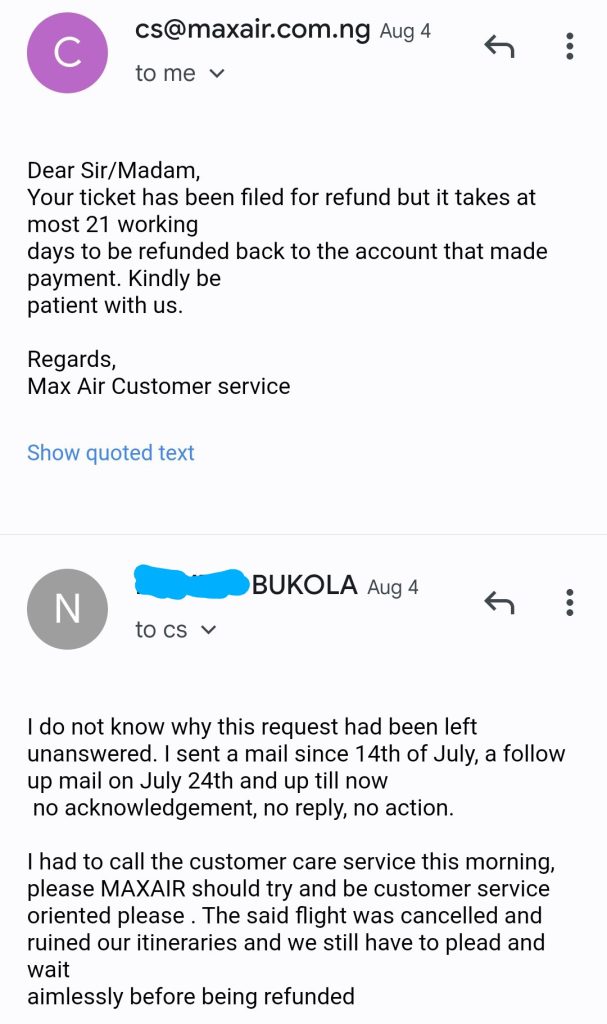 According to Bukola, they have sent several emails seeking a refund of their money but without any further reply from Max Air.
"We've sent several emails on asking for a refund but none of our emails has been responded to," Bukola said.
She noted that one of the airline's staff in Maiduguri who promised to help them might have blocked her line—as all efforts to call him for follow-ups were not going through.
Afolabi, another affected passenger said he had been calling their customer care lines but seems the lines are permanently switched off.
Digging deep
DailyAgent sourced the customer care numbers of the airline. Several efforts to call were greeted with "The number you are trying to call is switched off, try again later".
Checks by DailyAgent revealed that Max Air has refused to refund many passengers who were affected by the announcement of their suspension.
NCAA's provision on refund
NCAA's consumer protection regulations provide passengers the right of compensation not just a refund for a flight delay or cancellation.
According to part 19 of the regulation, passengers on domestic flights are guaranteed a certain level of levels of compensation if they are denied boarding or their flight is delayed or outrightly cancelled by the airline.
In 2015, the regulatory agency said passengers must be fully refunded when flights are delayed by a minimum of three hours.